Lead Generating Tool

for Coaches to Grow Coaching Business
Empower your website visitors to visualize important aspects of their lives via Wheel of Life assessment, capture leads and grow your coaching business.
Trusted by 3,000+ Coaches
Built by Experienced Team
5.0 Excellent Satisfaction Ratings
Why Choose Wheel of Life plugin?
Wheel of Life empowers you to generate business leads, keep your clients engaged and help them identify areas of improvement in their life. 





Promote Helpful Resources

Customizable Email Templates

Features of Wheel of Life Assessment Tool
The Wheel of Life Plugin offers several features to empower your clients to take an assessment and generate business leads. It also provides you with tools to grow your coaching business and engage your clients.
Unlimited
Coaching Assessments
Your users may want to take several Wheel of Life assessments to see if they can get a better view of lives.
Wheel of Life supports unlimited assessments. You can create multiple assessments for your clients. Your clients can take up the assessment multiple times to analyze the final results.
Analytics Dashboard provides you with a detailed overview of the assessments. You can see which wheels are popular, the total number of assessments taken by your client and more! 
These insights help you to understand the performance of the wheel assessments and the their engagement. You can use these insights to improve your business. 
The User Registration feature will allow clients to register on your website and access their dashboard. 
The registered clients can get access to all the assessments you have created. They can take assessments quickly, explore helpful resources and see their progress history.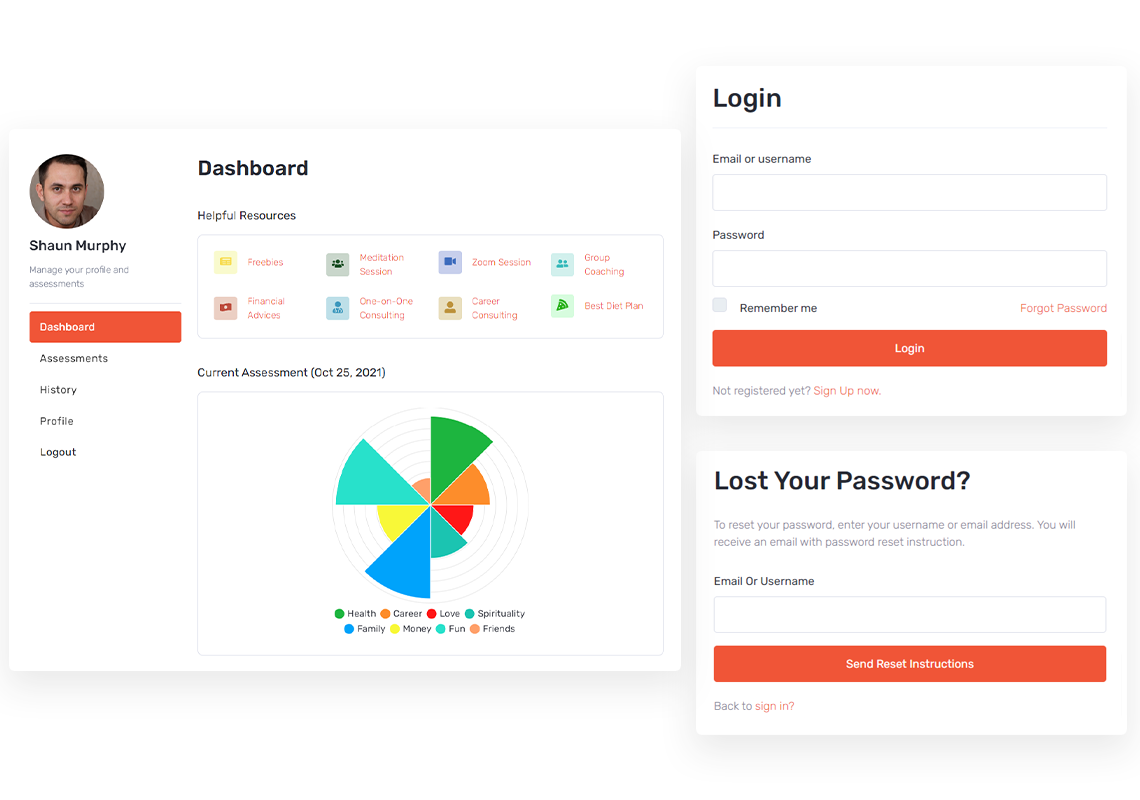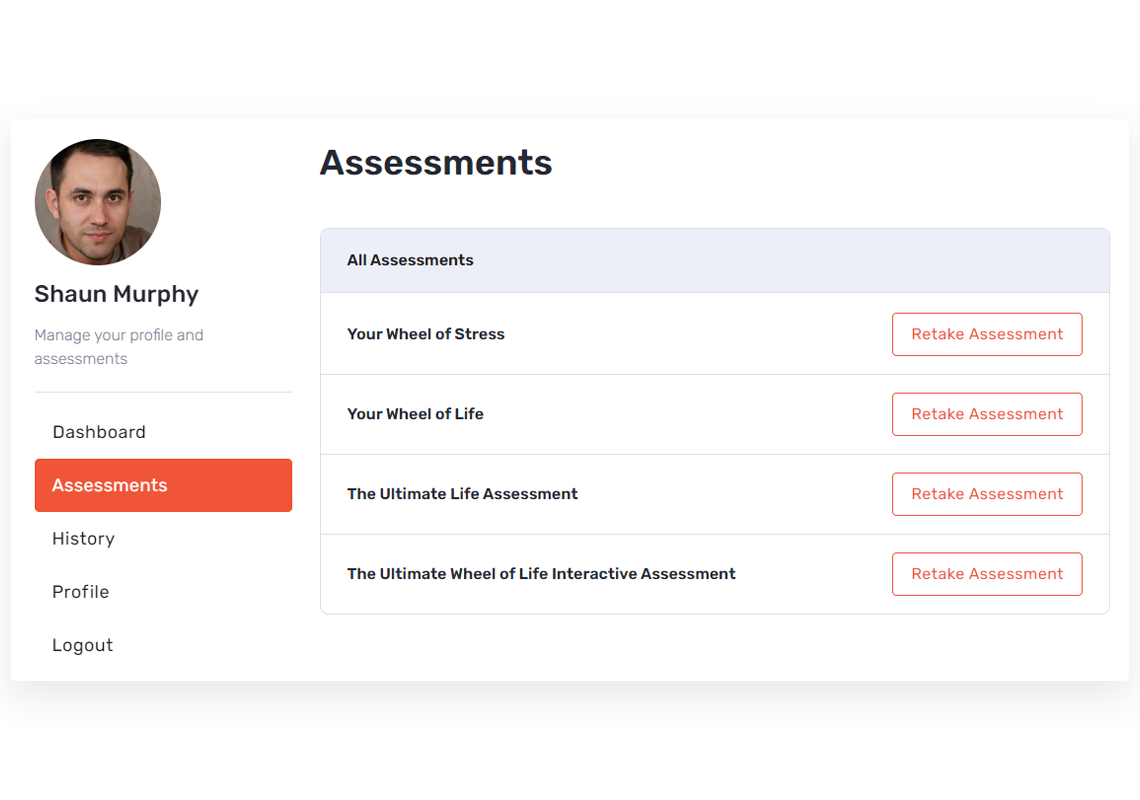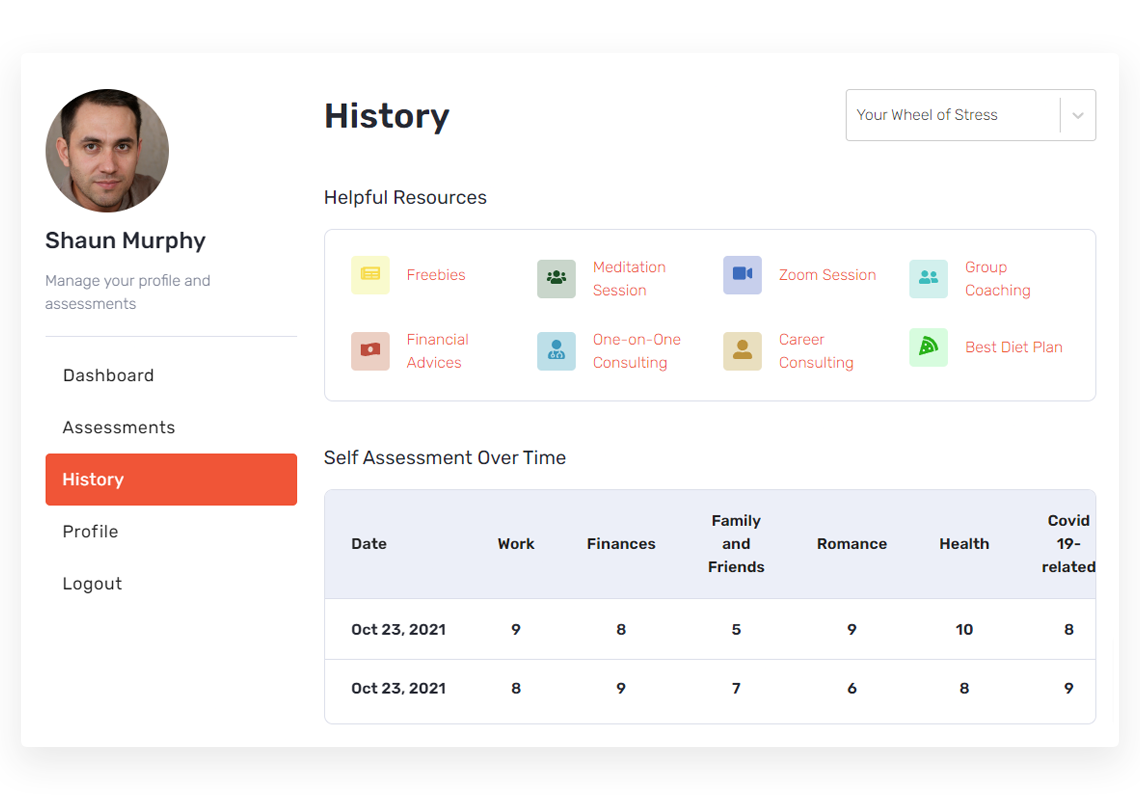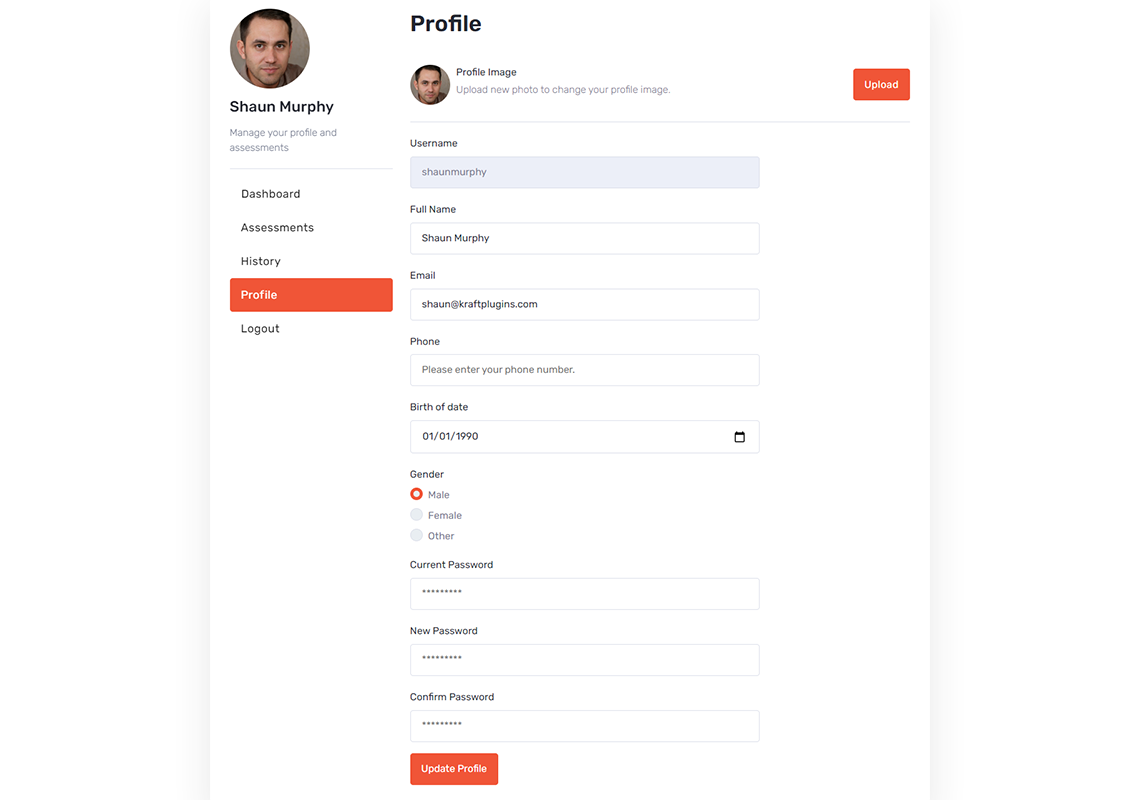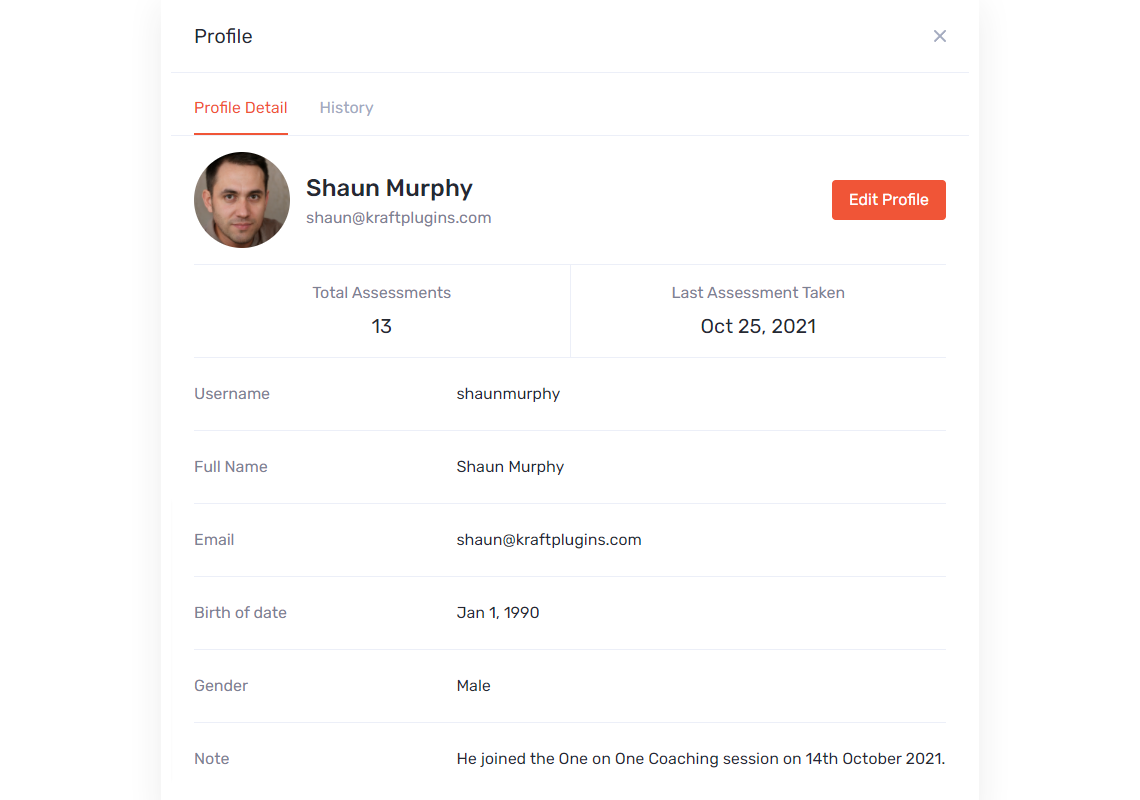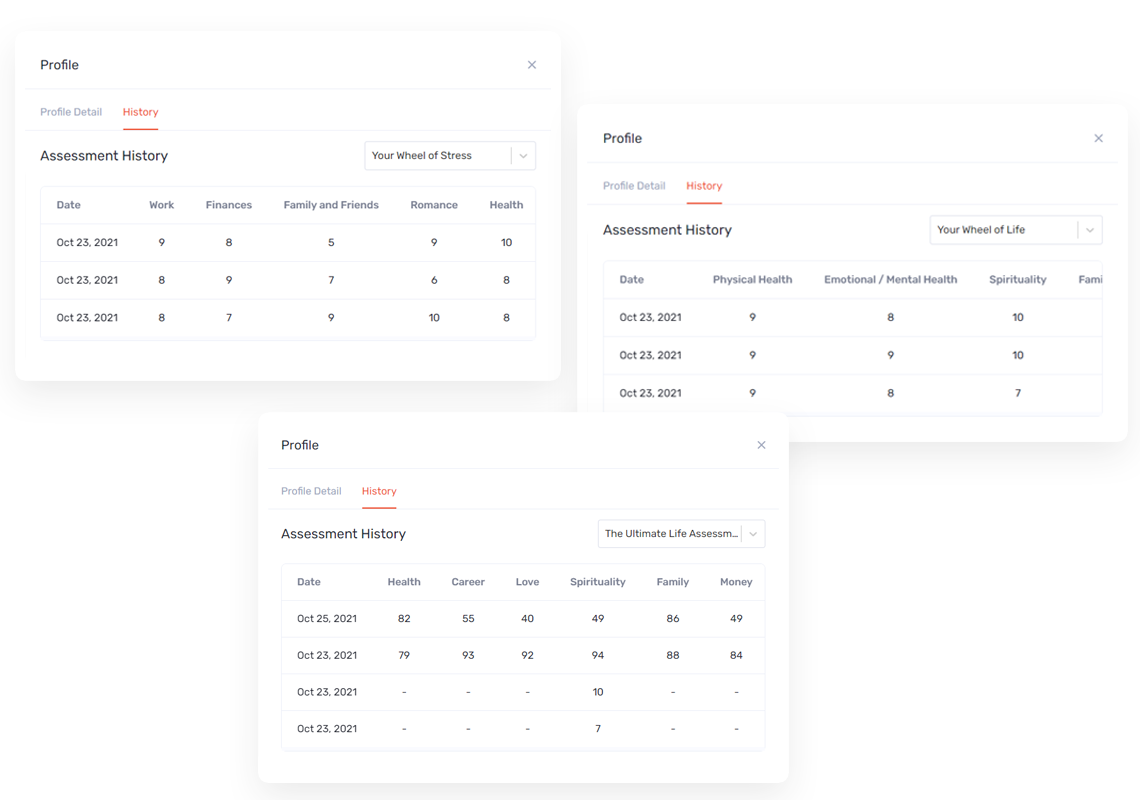 More Insights on
Members
Pro
With the help of the Wheel of Life Pro plugin, you can always stay on track with your clients' updates throughout the coaching relationship. For instance, you can easily review users' profiles and get insights on when and how many assessments have been taken.
With this, you can understand what's getting in their way of creating a balanced life and help them understand which goals need more attention and focus.
Easily Embed Across
Your Website
What if you want to place the Wheel of Life assessment across different sections of your website?
You can easily add your assessment form across your site as per your liking. Whether you want to add within your post, pages or a footer section, it offers you flexibility.
The Wheel of Life plugin is designed to help you generate more business leads, engage your clients and empowers them to live a fulfilling life.
Transform Your Coaching Website into
Lead-Generating Machine
The Wheel of Life plugin not only helps you capture valuable leads but also keeps your clients engaged and motivated to work towards a better life.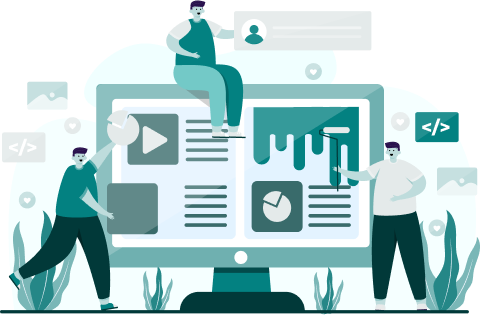 Coaches
Love

Wheel of Life
More than 3,000 coaches are already using Wheel of Life to generate more business leads and help their clients live a balanced life. Read what they are saying.
I was searching for a WP plugin to do a business diagnostic survey as a lead generation tool. After searching, I found The Wheel of Life, which provided an easy survey UI and graphic display of the results. The Wheel of Life WP plugin is a great assessment tool. I started with the free version to test for my application and quickly upgraded to the Pro version. It's super simple to set up and test. I had a few initial questions that were quickly replied to by Ashish in support. It works great and the graphic display is very cool for users. I'm absolutely thrilled with the plugin and the support. It's a 5 Star recommendation from me!
The plugin is super easy to install and use. Visually, it's simple and beautiful both in the front end and back end. Support is fast to reply and super patient and helpful even for the free version of their plugin. Would truly highly recommend.
I really love this tool! It's one of the assessments I start my coaching with and love to see how easily people enjoy it online! Great support, great team behind the tool.. what else? 5stars
I have added the Wheel of Life to my new website and find it an incredibly useful tool. I love it. Bev Holistic Wellness Coach
Frequently Asked Questions
Do you have a question about Wheel of Life? Check out our FAQs below. If your question isn't listed here, please contact us.
Transform Lives with Wheel of Life!
Start Empowering Your Clients and Growing Your Coaching Business Today with Wheel of Life!